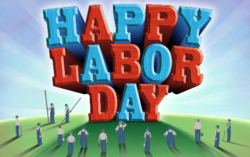 Teddington, Middlesex (PRWEB) August 18, 2011
With demand ever increasing for e card companies to offer a more diverse range of e card styles and designs, Katies Cards has created their first Labor Day e card which will not only add a new category to their ever increasing library of e cards, but also help to increase their profile within American markets.
User numbers of Ecard websites have grown dramatically over the past ten years, with the USA seeing the highest uptake across the globe. Katies Cards is developing cards that will appeal to American and international audience's to tap into this ever increasing market. The Katies Cards collection includes cards celebrating Labor Day, Independence day, St Patrick's Day, Halloween, Hanukkah, Diwali, Ramadan, Chinese New Year, Canada day, Easter, Valentines day, Thanksgiving, Christmas as well as the occasions of birthdays, weddings, new babies and others.
The new Labor Day E-card harps back to the origins of Labor day showing a group of workers performing manual labor and pulling together to build a structure. The e-card animation portrays the different building and joinery skills highlighting the spirit of unity and teamwork that is characteristic of Labor Day. The laborers work hard together to create a huge Happy Labor Day sign. The imagery in the card also mirrors that of the mood at the time of Labor Day, marking the end of the summer for many Americans, and a gathering of people to celebrate the occasion. As with all Katies Cards e cards the slick animation is accompanied by inspirational music.
Labor Day is an occasion where many communities come together for large barbeques or fairs. The first Labor Day was observed on September 5th 1882 and became a federal holiday in 1894 following the deaths of a number of workers during the Pullman Strike. The first Labor Day celebrations were proposed as a street parade followed by a festival for workers and their families. Historically this day has also been attributed with a fashion etiquette that many would follow: that people should avoid wearing white before Memorial Day and after Labor Day (arguments suggest the reasoning behind this was because white clothes are light and heat reflective and make you cooler in summer).
The ecard market has seen a sharp growth in recent years as people are increasingly in need of last minute and quick greetings solutions in their busy lives. Being too busy to send the traditional paper cards to everyone they know, people are only opting to send paper cards to a small select group of special friends or family. The e card has filled the gap for a quick and efficient as well as cheap alternative to the traditional printed greeting card. Ecards are also very environmentally friendly, which is an added appeal to those concerned about their carbon footprint. Occasions including Labor Day are fast becoming a popular time for people to send e cards and greetings to friends and loved ones. An e card allows the user to send wishes to numerous people at once, with the addition of a personal message, enabling them to personalize the experience in a quick and cheap format.
Katies Cards is a small, family run e card company who have created over 160 different e-cards to suit all occasions, tastes and ages. The company was set up over 4 years ago by artist Katie Davies after she found that she was unable to find any high quality e cards to send to her friends and family. She created her first one to send to her mother and has been slowly adding more to the collection since.
The company is based in Teddington in the UK. There are 4 people in the team and they have just appointed a new marketing manager, Racheal Ellis, in order to grow the business. They charge a small subscription fee in return for unlimited access to every card they create and are adding new cards and game-cards all of the time. For more information and to preview the cards visit katiescards.com/.
For more information:

Facebook: facebook.com/Katies.ecards

Twitter: twitter.com/#!/katiedavies
Copyright information: This article is free for reproduction but must be reproduced in its entirety, including live links & this copyright statement must be included. Visit katiescards.com for more services!
###